Let's Start By Answering the Question, Is AI Content Good for SEO?
The short answer is Yes! Google themselves have come out and said that AI content will not be penalized and can be used for SEO purposes. Just because content is written by AI, does not mean that it is low quality and not worth reading. They released a full statement which you can read here on AI content & SEO earlier this year. Here's a snippet from the article:
As you can see Google's stance is that as long as the content is quality and focused on the reader using their E-E-A-T standard, they have no issue ranking AI generated content.
Keep in mind a few very important points about AI content and Google search results:
Google is deeply invested in AI technology including AI generated text with Bard, Gemini and many other products they are working on and planning to release with Google Labs (including adding generative AI directly into search result pages). The idea that Google is in any way against AI technology is clearly not true.
Google essentially has no way of knowing whether content is generated by AI or not, models like GPT-4 (which Post Cheetah is based in) are so good at producing content that sounds like it is written by a human that no matter which filter is applied it would be close to impossible to tell that it is AI generated. OpenAI themselves released a tool to check whether content was written via AI (using their own GPT-4 model!) and it still could not detect with any accuracy whether it was AI written.
This means that as long as the AI content you're producing (in a system like Post Cheetah for example) is high quality then it will definitely be good for SEO purposes!
Will Google Penalize AI Generated Content?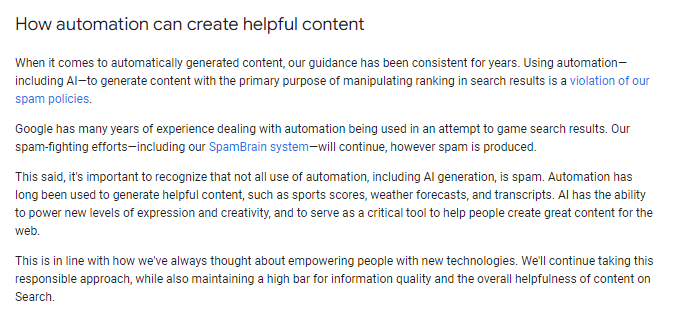 The answer quite simply is No. They have come out and said in the aforementioned article that they will not penalize AI generated content unless it is spam. They have very clear guidelines on spam and they even go so far as to provide a guideline for how to use AI to automate content creation without hitting their spam filters (you better believe that any SEO worth their salt has read this including the founders and engineers behind Post Cheetah). Here's the snippet where they guide users on how to avoid creating AI content that is marked as spam:
The advice that Google gives continues to be that any content that is helpful to the user (no matter how it is produced) will be eligible to rank in their search results. This means that as long as you are producing quality content using AI that Google will see it favorably for SEO purposes.
Delving into AI SEO Tools
As technological advancements redefine the marketplace and customer behaviors, strategies to adapt and emulate these changes have become paramount. One such strategic change has been prompted by the rise of Artificial Intelligence (AI) in search engine optimization (SEO).
The integration of AI technology into SEO tools has revolutionized the digital marketing landscape. AI SEO tools refer to software that incorporates the principles of artificial intelligence, such as machine learning, to enhance a website's search engine ranking. These tools offer data-driven solutions aimed at optimizing website content, thus, ensuring higher visibility and increased organic traffic.
There are many new AI powered SEO tools entering the market, however most are low quality and don't deliver results, here's a list of some of the most popular AI powered SEO tools on the market that have proven effectiveness and loyalty amongst seasoned SEO professionals and content marketers:
1. Post Cheetah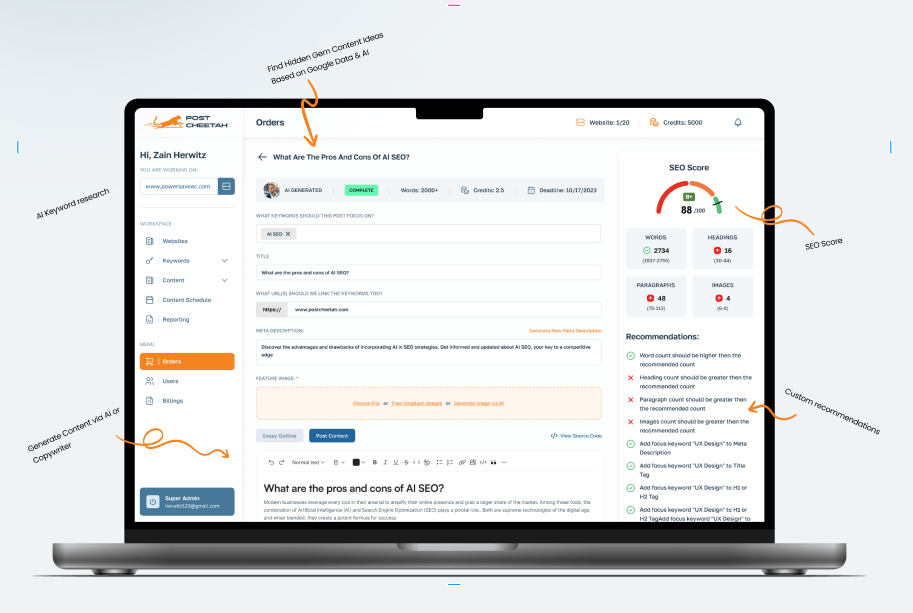 Post Cheetah is an all-in-one AI SEO Tool, it helps you automate the entire SEO process by using AI to conduct keyword research, source excellent content ideas, & generate the content using AI (or copywriters or both) along with a comprehensive live SEO editor to ensure all content produced will provide the highest SEO results. It's the only tool on the list that has an "SEO Magic" feature that's on the way which will transform how SEO is done moving forward by automating 90% of the SEO process and making it accessible any and all site owners.
Main Features:
Keyword Research
AI Content Idea Creation/Clustering
AI & Human Content Creation
Comprehensive SEO Editor & Auto Optimized Content
Scheduling & Publishing Content Directly to Wordpress & Shopify
Automated SEO Reporting (with white labeling for agencies)
Who is it for?
Wordpress & Shopify site owners looking for simple AI SEO solutions
Web Design Agencies looking to offer SEO services to clients without needing to outsource and maximizing profit while staying in-house.
SEO Agencies that are looking to simplify and streamline their SEO processes to save tons of time & money.
Price:
Starting at $99/mo with a 7-day free trial: Sign Up here to try it for free today
2. Alli AI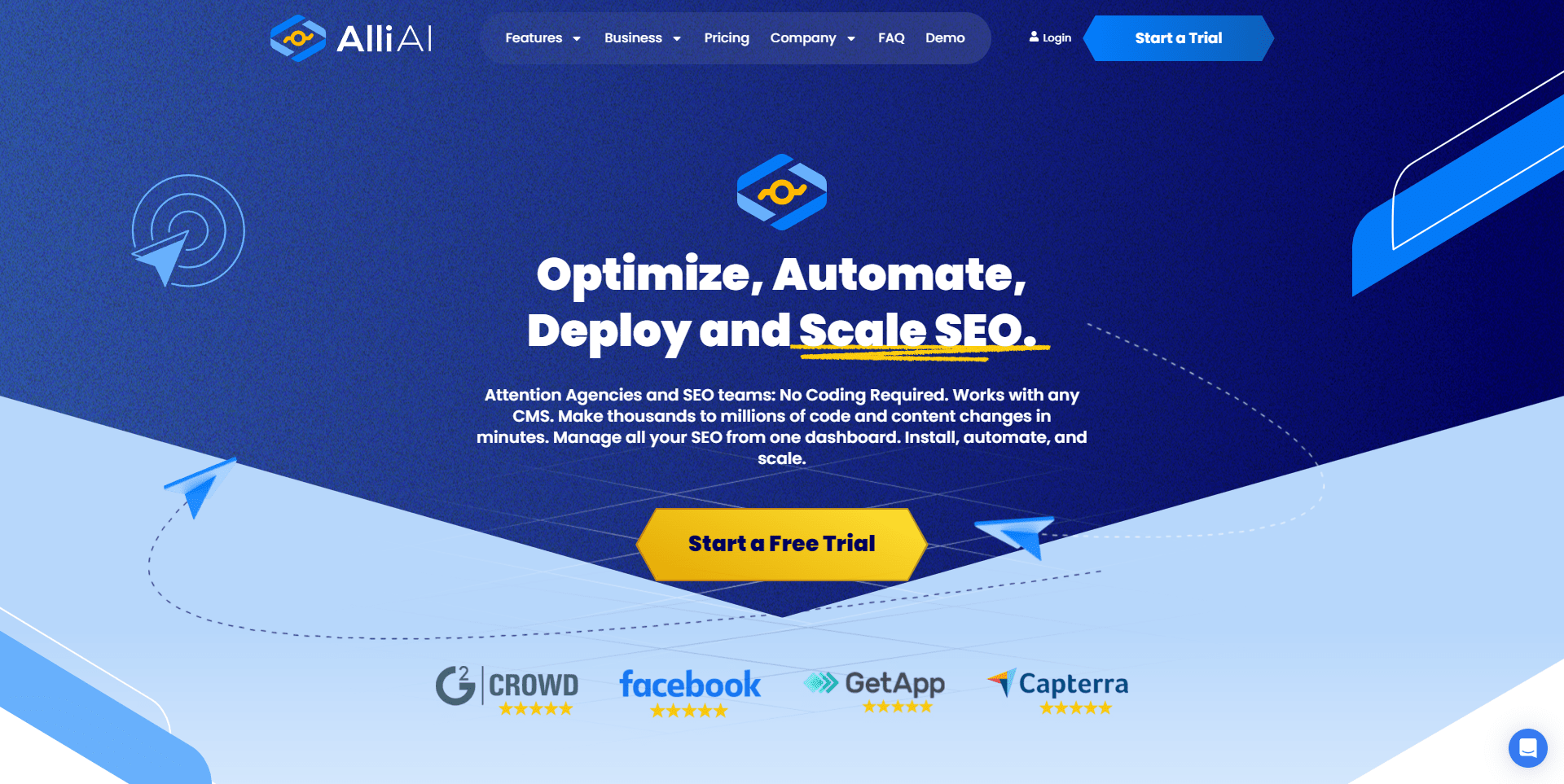 Alli AI is a javascript powered AI tool that will actually dynamically change the content/meta data on your website for chosen keywords automatically. This is especially time saving as it can all be done without actually having to edit or add any content or meta data on a given website. The concept is novel and useful although it could be considered "black hat" at some point in the future.
Features:
Bulk on-page Optimization
Interlinks
Schema Markup
Who is it for?
This software could be used by site owners and agencies who are looking to use Javascript to do bulk on-page optimization.
Price:
Starting at $299/mo with a free trial.
3. Frase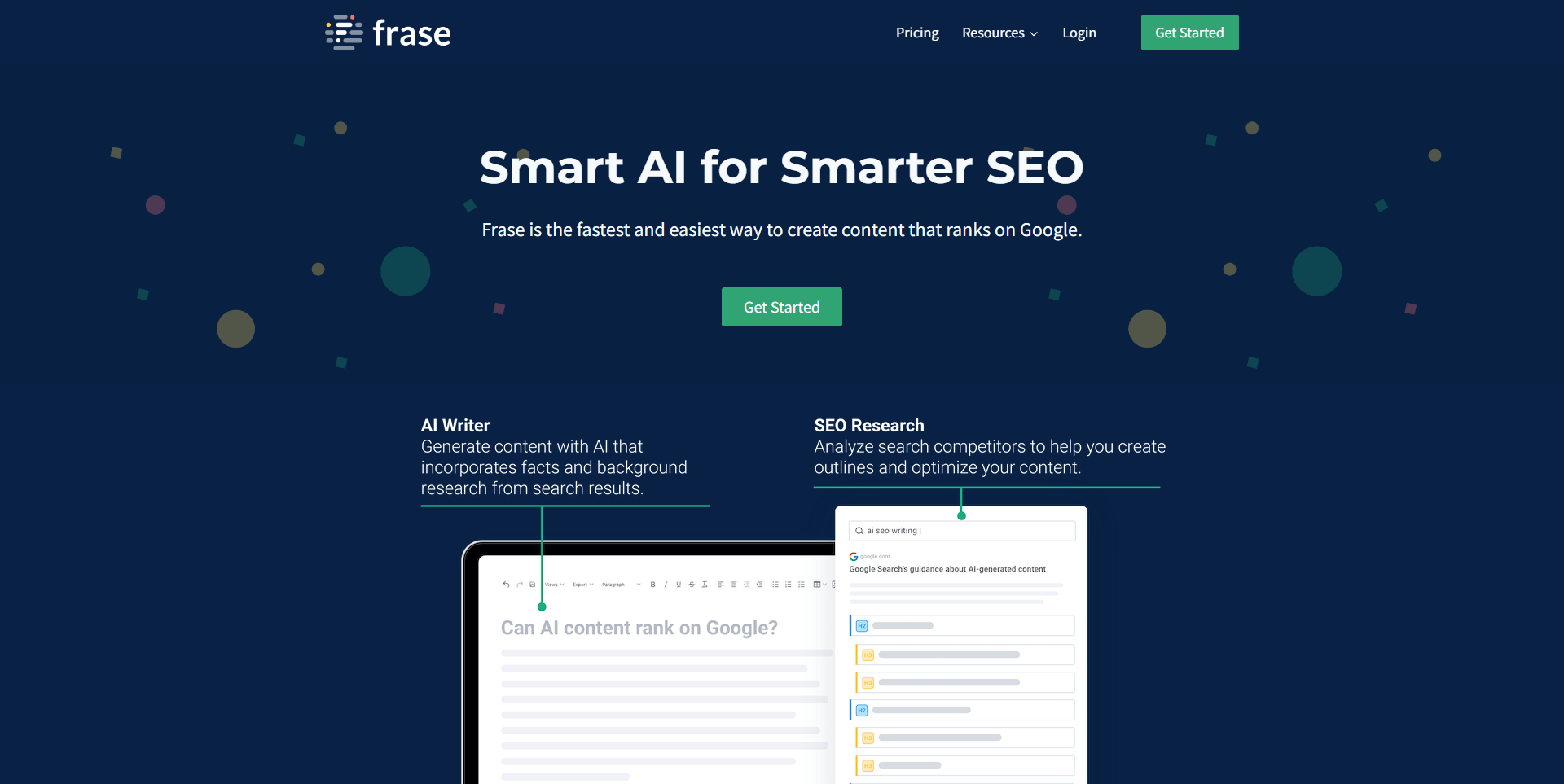 Frase is an AI based content research and writing tool that helps writers and SEO's create content briefs and assists with the content writing process as well using AI. It works well within existing content flows and can help writers and content marketers create long form SEO optimized content.
Features
SEO Research
AI Writer
Content Outlines & Briefs
Content Optimization
Who is it for?
Frase is a good option for content marketers who want to take a very granular approach to creating SEO optimized content and are willing to spend the time to work on each article and optimize it step by step without much automation.
Price:
Starting at $14.99/mo with a 1$ 5-day trial.
4. Surfer SEO AI Writer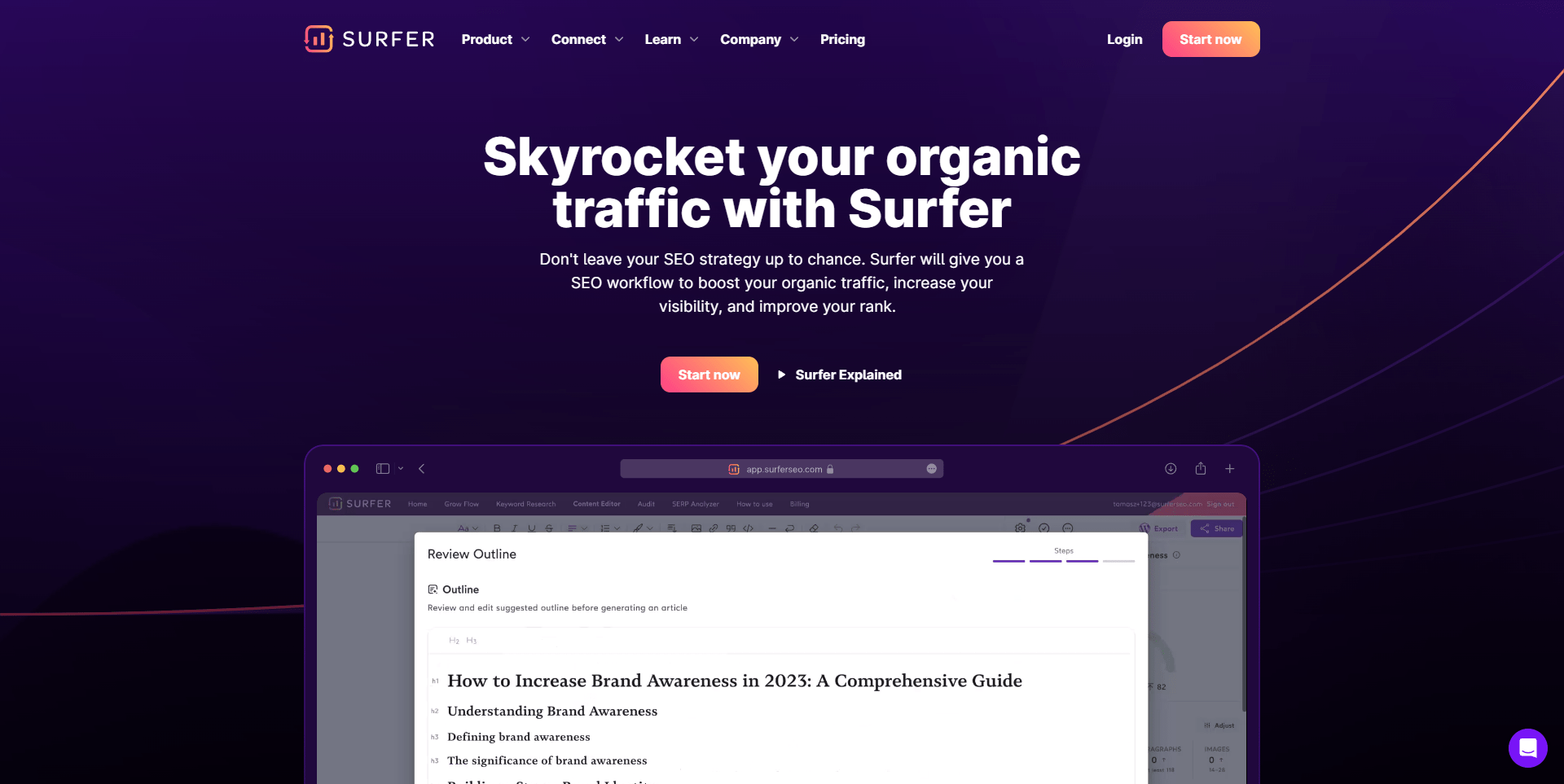 Surfer is an established SEO platform that has been offering SEO tools for many years and has recently added an AI writer offering to their list of services. Their AI writer assists with creating full articles offering LSI style keywords and an SEO score. The pricing however is much higher than other options with a single article starting at $29 each (Post Cheetah in comparison offers similar articles at $1-2 each).
Features
SEO Research
AI Writer
Content Outlines & Briefs
Content Optimization
Who is it for?
SEO professionals, content marketers, & site owners who are less discerning with their budget and are willing to spend more for similar results from other offerings at a much higher price point.
Price:
Starting at $29/article
The Benefits of Using AI for SEO
How AI Helps in Keyword Research
Using AI you can create an analysis of vast amounts of data to identify trending keywords, understand their context, and predict their future performance. As a result, AI is promoting a transition from keyword matching to intent matching, taking keyword research to an entirely new level. Post Cheetah mixes this with Google data which creates an extremely powerful AI keyword research tool that anyone can use to find keyword ideas and long tail keyword gems in any niche: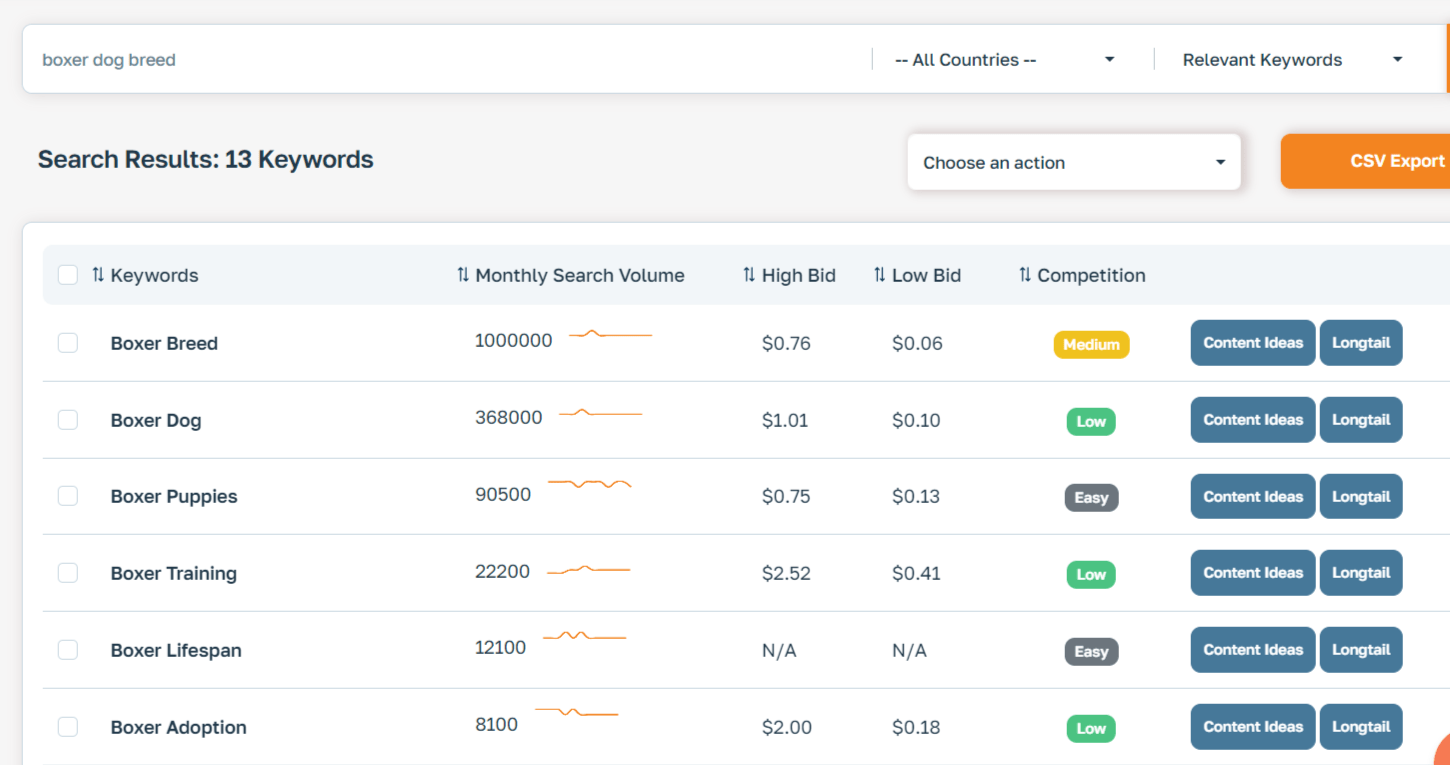 AI In Content Creation
In terms of content creation, AI SEO software empowers marketers to create personalized and valuable content that is optimized for target keywords and also aligns with the users' intent. AI's intricate understanding of a user's browsing behavior enables the creation of content that resonates with the target audience's preferences and needs. Furthermore, AI tools use intelligent SEO platforms to refine and optimize content based on the analyzed SEO data for a given keyword's SERP (search engine results page). Post Cheetah takes the top 10 search results for a given keyword and will optimize the content based on the word count, heading count, paragraph count, image count, and other common terms used in content that is currently ranking to create the highest possible content using AI for a given keyword.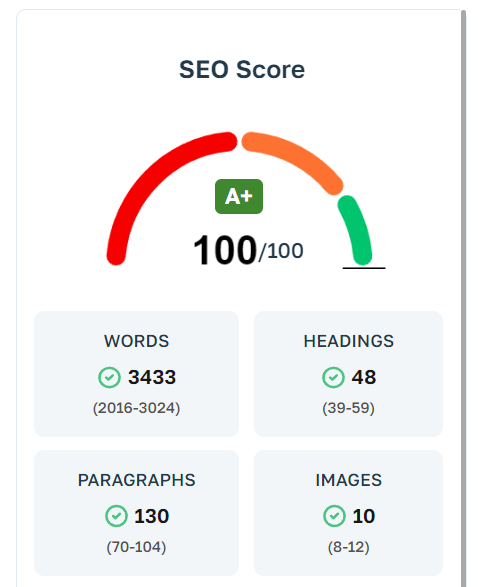 How AI Helps in Optimizing & Streamlining SEO
AI Optimized SEO uses advanced algorithms, data processing, and understanding to improve a website's overall performance. These AI SEO tools analyze and evaluate different aspects of a site, including its information architecture, content, backlinks, among others, to deliver actionable insights. Moreover, with SEO automation tools, businesses can easily and effectively streamline their SEO strategies, resulting in more engaged visitors and higher conversions.
Increased Efficiency and Productivity
AI SEO tools automate numerous processes, replacing manual work. From initial keyword research, competition analysis, content creation, website optimization, to monitoring and reporting, automated SEO tools handle it all, freeing up marketers to focus on other vital tasks. Consequently, making the process more efficient and boosting productivity.
Enhanced Content Personalization
By leveraging AI in SEO, businesses can also benefit from enhanced content personalization. AI enables the understanding of every visitor's individual preferences, which can be used to tailor content that matches their needs, thus providing a better user experience and potentially converting more visitors into customers.
The Effectiveness of AI Tools with SEO
Several success stories and case studies showcase the effectiveness of AI tools in SEO.
Case Studies & Success Stories
Many businesses have experienced a considerable improvement in their website's ranking, user engagement, and traffic increase, all thanks to AI SEO tools. These success stories underline the significant potential of AI in enhancing and transforming SEO strategies.
Assessment of AI SEO Tools Usability and Landscape
While the effectiveness of AI SEO tools is irrefutable, the usability and accessibility of these tools are also key considerations. It is essential to ensure that the tools employed are user-friendly, efficient, and truly beneficial. Also, with the continuous evolution and improvisation of these tools, staying updated with the latest trends and techniques becomes crucial for the most effective utilization of AI SEO technologies.
Where does AI take SEO in the future?
Now that we've taken a deep look at the world of AI and how it's accelerating SEO, let's look at some future trends and what we can expect in the future.
Significance of AI in SEO and the Role of Tools like Post Cheetah
Artificial Intelligence, with its potential and capabilities, is reformulating the rules of SEO. AI has lent a new level of efficiency and accuracy to SEO optimization strategies - delivering advanced, data-driven solutions that are improving online visibility, driving organic traffic, and pioneering a superior user experience.
Tools such as Post Cheetah epitomize the potential of AI in SEO. Its profound capabilities - executing advanced keyword research, generating detailed content briefs, and enabling dynamic AI content creation – are transforming how businesses execute SEO. Using these tools, businesses can witness a significant boost in their SEO strategies' efficacy, leading to enhanced online visibility, higher traffic, and bolstered brand authority.
These AI SEO tools eliminate the often grueling tasks related to SEO, making the process simpler, quicker, and more cost-effective. By integrating AI into SEO, businesses can better keep pace with the ever-evolving digital landscape, enabling them to provide a seamless digital experience that aligns with their audience's needs and preferences.
To Try Post Cheetah, click below for a 7-day free trial:
Try Post Cheetah Risk Free For 7 Days